Saskatchewan Waterfowl Hunts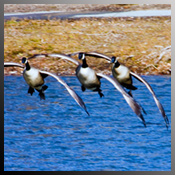 Big Spruce Outfitting is located in some of the best area for waterfowl hunting. Most of our set ups are only 5-10 minutes from the lodge. We offer many options with our hunts and hunting styles. Sometimes we will hunt out of layout blinds, sometimes we will use goose chairs, other times it might be just as simple to set up in bails or nearby water..
Big Spruce Outfitting has what we like to call our secret weapon (Pit digger) 90 % of the time we hunt out of pits. this increases our hunting percentages of birds taken each morning. Using the pits the birds don't flair and are not as skiddish later on in the season giving us the opportunity to have better successful hunts. If you looking for excitement in a hunt, then a Canada Goose, or a mallard afternoon or evening shoot is just what you need. Running around picking up birds while you have flock after flock of birds in the sky wanting to land is such a rush. All our hunts are set up for any age. Our duck hunts consist of hunting rivers, sloughs, creeks, and field hunts as well. We use floater decoys along with mojo robo ducks. If your looking to get away on an amazing waterfowl hunt than look no further.
Book with Big Spruce Outfitting today and lets "light em up boys"