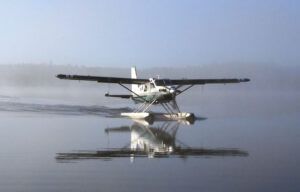 The walleye in the north don't get to be monsters but there are a lot of them catching one after another never gets old. We fish the rivers and deeper holes for this golden beauty come catch some pickys with big spruce outfitting.
Cast after cast of monster northern pike they are everywhere. Theriau lake is full of islands and shallow bays allowing us to locate these monster pike for or guests to catch a fish of a lifetime. Many of our northern pike are 50 plus inches. It's very common for us to go out for the day and catch until your arms are tiered of reeling no BS. If your looking for an amazing northern pike spot look no further cause we have it right here for you book with big spruce outfitting today and lets get fishing
The lake trout fishing is always good on theriau lake some days we catch as many as 50 lakers in each boat size ranges from big to small but no matter what the size we release them all.
We are a very strict catch and release outfit. One of the most amazing fish to catch is a laker the fight is something you will never forget and no matter how many you catch your smile is always as big as the last one. Book your fishing trip with Big spruce outfitting today and come catch some monster lakers with us.
Theriau lake is part of a big river system the water found river runs right through our lake making in an amazing spot to fish arctic Grayling. The rapids is the best place to fish for them and we have many diff sets to fish in. being located only a short 10 min boat ride to the river makes it really easy to fish for Grayling. Once we get to the river we jump into our jet river boat go down strewn to the rapids and start fishing. There are many spots for fly fishing and also many spots to wade out into the water where the current is not as strong. As your fishing for Grayling you look around and see breath taking scenery the sound of hard running rapids and tons of wildlife walking the river banks. If this is something you have been wanting to do for a long time look no further cause we have just the place for you book your trip with Big Spruce Outfitting
Fishing Options
Fly-in float plane ( 35 Min Flight )
$3500.00 +tax
5 Day – Add $500.00
6 Day – Add $750.00
ATV/UTV/BOAT Adventure
$2500.00 +tax
5 Day – Add $400.00
6 Day – Add $650.00
What to Bring
We provide everything except for your fishing license, rain gear & alcohol.  Fishing hooks, lures, leaders, weights, flys are not provided although there is a tackle shop at our lodge if your needing a few things. We do supply rods and reels.
If your bear hunting you must purchase an allocation from us along with a habitat and your guided black bear tag. Guns & bows are not provided.
There is also a washer and dryer at camp if your need clothes laundered. Bug spray and bug nets are a must for we do not provide them. Make sure you have an ample supply, some days there are no bugs other days they are crazy.