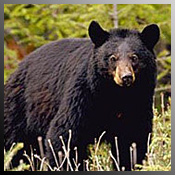 Big Spruce Outfitting is proud to be a very personalized outfitting service offering high-quality hunts. Our area has EXCELLENT habitat for our black bears to grow old… which also means BIG. We produce nearly 100% success rates year after year! 40% of our bears are brown or cinnamon in colour! Our COLD winters ensure our spring pelts are thick and luxurious! We also specialize in archery bear hunts!
Many record-book bears between 6-8 feet have been taken, with many weighing over 400lbs…. year after year! Come on up and get the blood flowing with an exciting black bear hunt with Big Spruce Outfitting!
If you are serious about a TROPHY BLACK BEAR hunt – call us today. We have a VERY high percentage of repeat clientele. We have limited openings but we would be happy to see if we can fit you in! CALL TODAY!!!
Big Spruce has a lot of different options for our Black Bear hunts.  Different times of Spring & Fall to accommodate everyone hunting needs.
5 Day Spring Hunt – Points North remote drive in camp
6 Day Spring Hunt – Fly-in Float Plane Bear/Fish Combo
5 Day Spring Hunt – Home Base Camp. Drive in Porcupine Plain
5 Day Fall Hunt – Bear/Waterfowl Combo. Home Base Camp. Drive in Porcupine Plain
What we supply and what hunters need to bring
Big Spruce Supplies
Shooting Sticks
Gun Cases
Boot Dryers
Washer/Dryer in Lodge
Heaters in stands if required
Comfortable chairs
Packed Lunches
Thermos' with soup, coffee, tea, hot chocolate
All closed in stand blinds
Drop off and pick up at the stands ( enclosed and heated )
All caping/skinning and transportation prep for whitetail
No draw system for Tags. Your tags will be ready for you when you arrive in camp
What you can bring
Warm clothes for all climates
Orange vests and hats
Backpack with any hunting gear you may need
Cash for tips for Guides and Cooks