Big Spruce Information
Big Spruce Outfitting is located in the heartland of trophy whitetails. The game rich Porcupine Provincial Forest surrounded by lush farmland is an unbeatable combination of food and heavy cover. Here the bucks grow big and mature awaiting the seeker who has the talent and patience to bring in the trophy of a lifetime.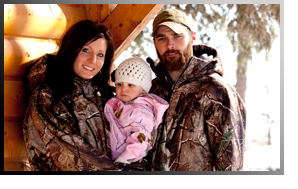 Saskatchewan is the "Number One" chosen spot in the world to harvest a Boone and Crockett Whitetail. Home of the "World Record" Typical Whitetail.
Keep in mind, Big Spruce Outfitting can help you take down that magnificent brown or black bear and we also offer water fowl hunting as well. "I (Mark) have been hunting and spotting geese for many years. There is no feeling like laying in your blind in the middle of a freshly harvested, barley field watching the sun come up, frost glistening on the decoys and hearing that first flock of geese 5 miles away!"
There's no "roughing it." Amber's home-cooked meals will keep you warm and give you plenty of energy to stay in the stand until that trophy comes along. Every morning breakfast will be available, at your convenience, bag lunches will be packed for your day at the stand and each night you will come home to a satisfying, delicious, hot, home-cooked meal!
Accommodations are second to none. All hunters will settle in a brand new lodge built in the summer of 2011! You will sleep in warm, comfortable beds, 2 hunters per room, with access to 2 private bathrooms and showers, just like home!
All hunts are 6 days, unless waterfowl hunting, which consists of 5 and 3 day hunts. We have an 8 hunter maximum in camp per week rule. Hunting areas will be altered each year so as to allow bucks to mature with minimum hunting pressure.
Transportation to and from the airport to Big Spruce Outfitting Camp will be up to the hunter. It is your responsibility to rent a vehicle.Please be a day early to go over rules and itinerary with us, This will give you a chance to meet everyone get settled in, sight in your guns, and get in a good meal and good nights sleep, because the next morning its hunting time!
For more information, please call (306) 813 -7770 or email Mark at [email protected]